I have no pecuniary interest in this program but IO've used it for several years now.  I also work in metals and ceramics as well as fiber and the ability to have a Celtic design program has increased my own esign speed considerably.  The font system I use is designed to be used with a word processing program; in my case MS Word and is installed as a font instead of a stand-alone program.  The program is produced by Clanbadge which can be located at: www.clanbadge.com and they have a lot of information on their page as well as a number of demonstrations.  I found the system easy to use, thei instruciton very clear and the fonts excellent and assemble well.  I use an opaque projector to  enlarge the graphics for my use but they can be sized in the printout also.  The fonts are actual segments of the knots and fit together flawlessly.  Here is an example of a border I did in ceramic tile.  The center was a ceramic tile mural and the this was the border for the mural.  This is the actual print out assembled out of pieces of tabloid size paper and the final result as projected was 4' wide.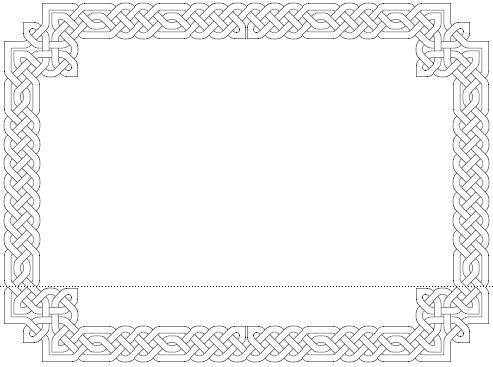 I've enjoyed using this program and I have foudn it helpful.  I have to try making up a draft from it next because there is a celtic knot motif I'd really like to make into a guitar strap.
The font only takes up about 150k in your memory and comes in different shadings and they are constantly adding new ideas. Browse around their wesite and check out their tutorials and if I've overstepped my bounds please accept my apologies.
Again I just like the product and wanted to share I have no connection or interest in the business.  
Regards, Charles
Comments
They obviously put a lot of work into this program.  I've been looking for something like this for quite a while.  I think that your link to the site is broken though, but I did find it.  Thank you for your review of this product and I think the border you made for your tile looks awesome!  Which package did you purchase?
Janean
there is a common typo in the original message. the software is at www.clanbadge.com  .
I've owned this software for a few years.  I haven't used it for any weavings yet, but I plan to in the future.  I last used it to design a pattern for pyrography on a wooden box.  You can get very intricate with the designs.
This is so cool!!! I see rugs in summer and winter, or warp faced.  Stencils!!!!! Curtains!!