I ran across a reference to the "Pig Cage" or "Bamboo Cage" loom while doing some research on brocade weave.  The loom has been used in it's relatively unchanged configuration from the Han Dynasty. The product of this loom is very similar to that porduced on the jacquard loom but the design of the bamboo cage loom is so much simpler.
Has anyone had an opportunity to see one of these in action?
Regards, Charles
Comments
must do some research into this!
Here is a view of the pig cage loom in operation. A Zhuang girl demonstrates brocade weaving on a traditional "pig cage" loom at the 5th China (Shenzhen) International Cultural Iindustries Fair.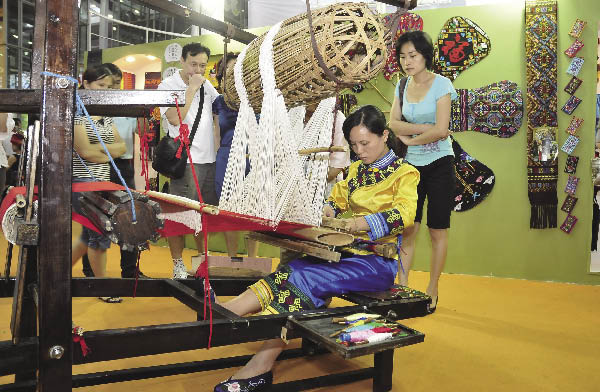 I won't be home until thursday to a full keyboard so this is short typing on a phone screen. I posted mytrip journal earlier this year showing a similar pattern storage device in use. In the same trip journal are some backstrap looms that use the same shedding devices as above used by the Pa Than. The only mechanical difference between the one above and the one used by the Tai's is that above they are doing one pattern storage stick at a time whereas the Tai transfer a series due to loom frame differences. I've recently adapted it to my Cranbrook and will eventually write/speak about it. It's not quick but it's faster than a Jacquard! Here is the link below, http://www.mytripjournal.com/travel-683570 I have a basket loom like the one above that I am going to put togeather and get it weaving over the next year NOW that I have a grip on the pattern storage rotation and the relationship between the loom pattern device, the weaver and the warp. Take a look at the videos is have captured in North Vietnam. If you do find a video of the above loom in action . PLEASE share, I've been looking for one for years and haven't found one anywhere.
Your videos are very interesting. Tan's Brocade Workshop in Guangxhi uses the pig cage loom to weave brocade.  It isn't a video but there might be some additional information leading from this site; http://www.tansbrocade.com/story/loom.aspx
I'd be very interested to learn how the pattern storage device works on these looms.
Regards, Charles
Thanks for the link, I've seen his articles but the web page must be fairly new. It is great he is running a school. Road trip anyone? Let me know what your questions are. I have a pretty decent knowledge of the loom mechanics and can probably answer them. It is all fairly straight forward once you see the two type of looms in action. Did you watch the Pa Than section on my trip journal? That illustrates the shedding action taking place on Tan's loom.
For some reason this brought to mind Fred Lamb's shedding device. Fred is a long-retired engineer who has made fascinating adaptations for his loom. My favorite Fred quote is in the article about his loom (below): Fred has never been interested in weaving yardage. He sees a car blanket as just a soft, warm place to hold 60 blocks of Summer and Winter.
http://www.cuyahogaweaversguild.com/articles-and-essays/freds-loom/
Laurie Autio
Deb - I'd love to know how a pig cage loom works.   I've looked through all my refence material, including "The book of looms" by Broudy and can't find out anything.   I'm assuming the loom is a simple two harness loom, but the cage stores sticks that are associated with those strings that go around the cage and somehow capture the patterns. 
Does the cage rotate as you go, or do you have to move the sticks by hand?  What is the purpose of a round storage for the sticks?  How is this different from pattern saving lashes on a draw loom?
Please correct any of my wrong assumptions!
Sally, look at reply #3 above and view the link and watch the videos. Read the text on my journal. I gave other references also on the basket cage loom. The cage provides a holding spot so the pattern saving threads can be moved from front to back as each row of stored pattern is placed down in the warp line. Basically it provides space for the manipulation of the saver sticks, the sword and the pattern rods. It also provides a benefit of storing above the warp line. Watch my QuickTime move on the Jounal link above. The Lao method goes above & below. I like above the warp better for our western looms & Rigid heddles. Yes, it is a cousin of the pattern lashes on the draw loom, just a different mechanism serving the same purpose. Deb Mc
Hi guys, I thought I'd let folks know who are in the San Antonio area that I will be presenting a program
Thursday, November 8th on the Looms of Southeast Asia at the San Antonio Guild
Meeting at 9:30am. The guild starts at 9:30 am with coffee and a short business
meeting and I am up after the business meeting. I hope to see some of you there!
Very few people teach this subject and I am glad to teach it here in Texas.

Here is the guild webpage:
http://sanantoniohandweavers.com/SA_Handweavers_Guild/Welcome.html

Program: Travel with Deb to Southeast Asia and learn about the simple looms used
to create intricate patterns. We'll compare loom mechanisms and their
differences in Vietnam, Laos, Thailand, Cambodia, and Burma. We'll also look at
how reeds are handmade to order. Towards the end of the seminar, those who are
interested will learn about making heddles by hand. Deb will have sample
textiles and tools for you to touch and look at.

Directions: The guild meets at Colonial Hills United Methodist Church in a room
over their Child Development Center. URL for a Mapquest map is below. You will
find plenty of life back there. We will have a hostess at the door .The street
address of the church is Colonial Hills United Methodist Church, 5247 Vance
Jackson Rd, San Antonio, TX 78230

map link is http://mapq.st/OUulJA

It sounds like an absolutely fascinating program, I wish I had been in a position to have attended. If you ever get out here on the left coast let me know!
regards, Charles